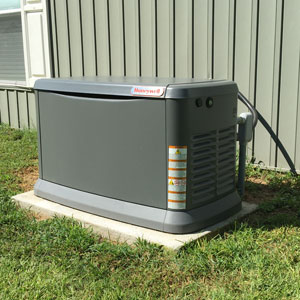 We are excited to inform you of a new service we now offer: standby power generators! In the event of power failure due to one of our famous South Carolina thunderstorms or ice storms, our new generators will restore full power to your home automatically, within a few minutes.
Enclosed in an all-aluminum cover with the inclusion of a RhinoCoat powder-coated finish, these Honeywell generators are corrosion-resistant, to stand ready outside, all year long. One of the many conveniences of these Honeywell generators is that they run automatically in a self-test mode on a weekly basis. This is to ensure that if there are any issues with the generator, we can resolve the issue long before you need it in case of an emergency. Additionally, Honeywell Generator's Controller features a LCD display that allows users to monitor battery status and track maintenance intervals to ensure your generator is always in the best operating condition.
Honeywell Air Cooled Home Standby Generators are a reliable answer that ensures necessities, conveniences and amenities are always available. These generators are fueled by the dependable source of LP or natural gas, and will help you ride through a power outage of any length, comfortably. Honeywell Generators and engines are also engineered and built in the USA. They also come with a premium 5 year limited warranty.
If you are interested in more information or a quote to include a back-up generator to your emergency plan, feel free to contact us. Also, if you already have a standby generator, and need it serviced, we have 2 factory trained technicians at Carolina HVAC willing to help you.
Power outages can happen in the blink of an eye
What causes power outages?
38%
Lightning and other weather: wind, rain, snow, heat, cold and ice
26%
Utility equipment problems and grid overload
12%
Fallen trees or tree growth
8%
Human error: underground digging, cranes, traffic and vandalism
6%
Miscellaneous: mechanical damage, construction and fire
At the very least, we recommend you protect the following areas/services of your home:
Furnace
Air Conditioner
Sump Pump
Lights
Well Pump
Garage Door Opener
Security System
Refrigerator